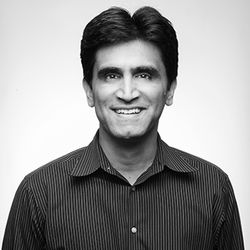 Krishna Srinivasan
Co-founder, LiveOak Ventures
Krishna Srinivasan is a co-founder of LiveOak Venture Partners and has been investing in early stage Texas based companies and entrepreneurs since 2000. His current and past board involvements at LiveOak include CS Disco (e-discovery platform), Hive9 (Marketing planning and performance measurement software), OJO Labs (AI based customer service agent), Razberi Technologies (video surveillance appliance), RxWiki (Pharmacy patient engagement platform), StackEngine (Docker / container management) – acquired by Oracle, StepOne (predictive, contextual self-support), and Written (content marketing platform).
Prior to co-founding LiveOak, Krishna was a Partner at Austin Ventures. At Austin Ventures, he worked with companies such as Augmentix, Entorian (NASDAQ: ENTN), Caringo, Coldwatt (Nasdaq: FLEX), Spatial Wireless (NASDAQ: ALU), Mavenir Systems (NYSE: MVNR) and BlackSand Technologies (NASDAQ: QCOM). Prior to joining Austin Ventures, Krishna was with Motorola where he wrote large scale optimization software for supply chain planning and worked with a variety of business units on strategic and operational issues. He started his professional career at SEMATECH.
Krishna received his MBA from Wharton where he graduated with highest academic honors as a Palmer Scholar. He also has an MS in Operations Research from the University of Texas at Austin, and a BS in Mechanical Engineering from the Indian Institute of Technology, where he graduated with the highest all-round honors.
Krishna also currently serves as Chairman of the Miracle Foundation board, an Austin-based organization that supports orphanages in India and is one of the founding members and a past board member of TiE Austin.